I cook today: Sunday rolls/buns as baked by the bakery
Preparation: 90 minutes
Cooking time: 60 minutes
Total time: 150 minutes
Category: Baking recipes, Bread & Buns
Our Recipe Rating: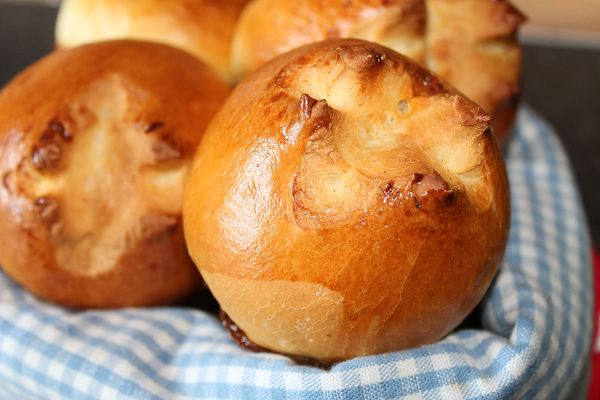 Ingredients for about 8 buns/rolls:
300 grams of flour
½ cube of yeast
2 eggs
25 grams of butter
125 milliliters of milk
1 teaspoon of sugar
½ teaspoon of salt
Flour for the work surface
1 tablespoon of condensed milk or cream
Kitchen Helper/Gadgets:
1 vessel for mixing the yeast milk mixture
1 whisk or a fork to stir
1 bowl
Mixer/food processor
Possibly a kitchen balance
1 knife or scissors for cutting the rolls
1 kitchen towel
Baking tray + greaseproof paper
1 brush for brushing the buns/rolls
Instructions:
…preparations:
Crumble yeast in a large vessel. Add 125 milliliters of lukewarm milk and a heaping teaspoon of sugar & stir with a whisk until sugar and yeast have dissolved.
…for the bun dough:
Combine 300 grams of flour, 25 grams of butter, 1 egg, ½ teaspoon of salt and the yeast-milk-mixture into a mixing bowl. Knead with the help of a food processor or your hands about 5 – 10 minutes until the dough is smooth. Give the dough on a floured working surface and form into a ball. Let stand covered with a kitchen towel for about 30 – 45 minutes.
…for the sunday rolls/buns:
Knead the dough again after resting time, then form into a thick roll and cut into 8 pieces of dough (each 60 – 70 grams). Form all pieces of dough into balls and place on a lined baking tray. Cover the dough balls with a kitchen towel and let stand for another 30 – 45 minutes.
Preheat the oven to 200 degrees (top/bottom heat) on time. Cut a cross into the rolls top after the resting period using a sharp knife or scissors. Whisk up 1 egg and 1 tablespoon of condensed milk or cream and brush the rolls all around with the egg mixture. Bake the buns in the preheated oven for about 15 – 20 minutes until golden brown and crispy.
Bon Appetite & enjoy baking!
Video Tutorial:
Watch the video tutorial to see the recipe and the preparation method precisely (German Audio only, English Subtitles available):
Recipe Summary: