I cook today: Cheese Spaetzle garnished with braised onions and chives
Preparation: 15 minutes
Cooking time: 45 minutes
Total time: 1 hour
Category: Lunch Recipes, Pasta & Noodle Dishes
Our Recipe Rating: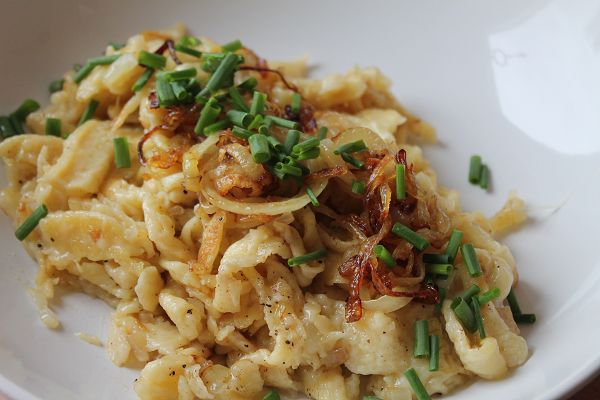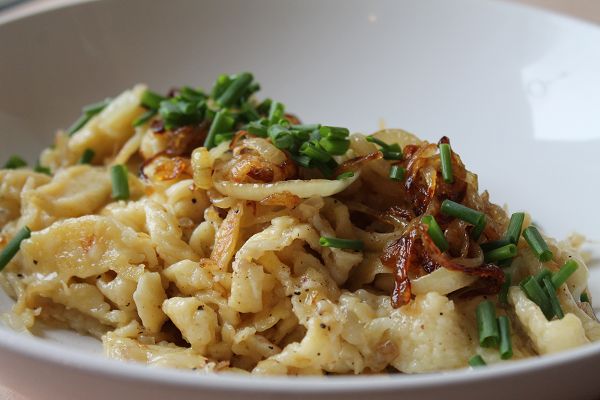 Ingredients for 4 servings:
…for the spaetzle noodles:
300 grams of flour
3 eggs
150 milliliters of aerated waters
1 teaspoon of salt
…for the Cheese Spaetzle:
4 onions
100 grams of Emmenthal Cheese
100 grams Mountain/Alpin Cheese
½ bunch of chives
Butter
Salt & pepper
Kitchen Helper/Gadgets:
Mixer or food processor
Mixing bowl
Pot to cook the Spaetzle
Wooden board + dough scraper for scraping the spaetzle
2 pans
Ladle
Colander
Grater
Instructions:
…preparations:
Peel 2 onions, then chop finely. Peel the other two onions and cut into thin rings. Finely grate Emmental and Mountain Cheese using a grater. Wash chives, shake dry and then cut into small rings.
…for the spaetzle batter:
Mix 300 grams of flour, 3 eggs, 150 milliliters of water (carbonated) & 1 teaspoon salt using a mixer or food processor until a tough spaetzle batter. The batter is perfect when it bubbles and viscously runs from the stirring hook.
…for the braised onions:
Heat up a large pan adding a flake of butter and fry the onion rings over low to medium heat, while turning occasionally, for about 15 – 20 minutes until golden brown.
…for the spaetzle noodles:
Bring a large pot of salted water to a boil. Give some spaetzle batter onto the wooden board and with a dough scraper try to scrape thin & oblong noodles. From time to time dip the tip of the dough scraper into the boiling water, so the noodles are easier to scrape. Alternatively the batter can be pressed into the boiling water using a spaetzle press.
Once the noodles float to the water surface they are ready and can be taken out of the cooking water using a ladle. Place the noodles in a colander and briefly rinse off thoroughly with cold water, then let drain well.
…for the Cheese Spaetzle:
Heat up a large pan adding a flake of butter and fry the chopped onions a few minutes until glassy. Then add the drained noodles and fry them while turning/tossing occasionally for about 5 – 6 minutes until the noodles are lightly browned here and there. Season noodles vigorously with salt and pepper, then spread grated cheese on top, shortly fold in (until cheese pull strings) & then serve the Cheese Spaetzle immediately on plates.
Serve Cheese noodles garnished with braised onions and chives.
Bon Appetite!
Video Tutorial:
Watch the video tutorial to see the recipe and the preparation method precisely (German Audio only, English Subtitles available):