I bake today: Zebra Cake
Preparation: 15 minutes
Cooking time: 60 minutes
Total time: 75 minutes
Category: Baking recipes, cake recipes
Our Recipe Rating: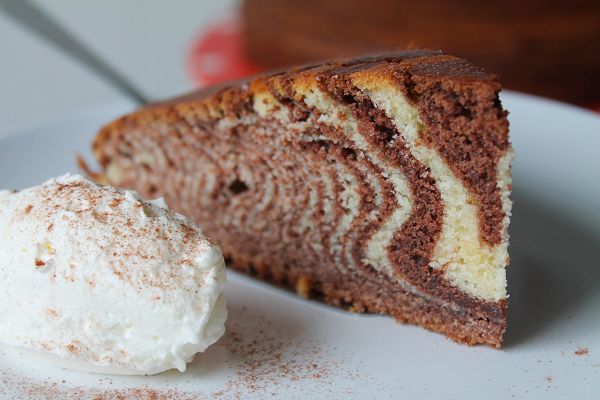 Ingredients for 1 Zebra Cake:
375 grams of flour
200 grams of butter
200 grams of sugar
4 eggs
1 packet of vanilla sugar
1 packet of baking powder
300 milliliters of milk
3 heaping teaspoons of cocoar
A pinch of salt
Possibly whipped cream for serving
Kitchen Helper/Gadgets:
Springform pan (26cm)
1 sheet of baking paper
2 mixing bowls
Mixer/Food Processor
Sieve
2 tablespoons
Instructions:
…preparations:
Line the bottom of a springform pan with a sheet of baking paper. Get Butter timely out of the refrigerator, so that they can assume room temperature. Preheat the oven to 180°C (top/bottom heat).
…for the batter:
Mix 200 grams of sugar & 1 packet of vanilla sugar with 200 grams butter at room temperature in a mixing bowl using a mixer or food processor for about 3 – 4 minutes until creamy. Gradually add 4 eggs and continue mixing each egg for about 1 minute. Give 375 grams of flour and 1 packet of baking powder through a sieve to the batter. In addition add 250 milliliters of milk and a pinch of salt and mix until all ingredients are well incorporated. Once the batter runs hard tearing from stirring hook, it is perfect.
Remove slightly more than half of the batter into a second bowl and set aside. Now add 3 teaspoons of cocoa powder and about 50 milliliters of milk to the residual batter in the mixing bowl and mix all ingredients are well incorporated.
…for the zebra pattern:
To achieve the typical zebra pattern the batter should be put into the springform pan layer by layer or tablespoon for tablespoon.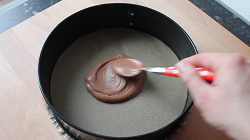 First give 1 tablespoon of dark batter in the center of the prepared springform pan and flatten slightly…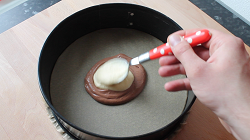 …then give 1 tablespoon of bright batter centered onto the dark batter…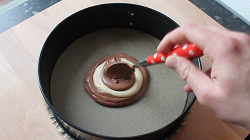 …and then again one tablespoon of the dark batter onto the white…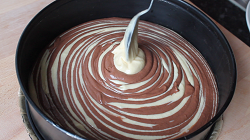 …continue that until the whole batter is used up…

Bake in a preheated oven at 180 ° C (top / bottom heat) for about 50 – 60 minutes. Once you can insert a toothpick in the center of the cake and it comes out clean, the cake is ready. Get the out of the oven and allow to cool for 10 – 15 minutes. Then loosen the springform pan and allow to cool completely on a wire rack. Cut the cake into pieces and best serve with a dollop of whipped cream.
Bon Appetite!
Video Tutorial:
Watch the video tutorial to see the recipe and the preparation method precisely (German Audio only, English Subtitles available):