I cook today: Spaghetti Ragù alla Bolognese
Preparation: 15 minutes
Cooking time: 1 hour & 30 minutes
Total time: 1 hour & 45 minutes
Category: Lunch Recipes, Pasta & Noodle Dishes, Meat Dishes, Italian Cuisine
Our Recipe Rating: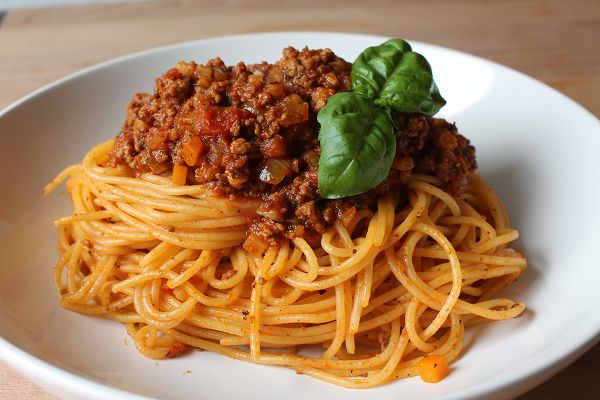 Ingredients for 4 – 6 servings:
500 grams of spaghetti
500 grams of minced meat (half beef/half pork)
100 grams bacon/pancetta
1 large carrot
About 125 grams of celery
1 large onion
1 – 2 cloves garlic
100 grams of tomato paste
100 milliliters of red wine
1 tin chopped tomatoes
1 teaspoon marjoram, oregano, basil, thyme and rosemary
1 – 2 bay leaves
Sugar
Salt & pepper
Fresh basil for garnish
Kitchen Helper/Gadgets:
A large pan or pot for cooking the bolognese sauce
A pot for cooking the noodles
Colander to drain the pasta
Instructions:
…preparations:
Peel onion and garlic and chop finely. Peel carrot and celery using a vegetable peeler & dice finely. Cut bacon/pancetta into thin strips.
…for the ragù alla bolognese:
Heat up a large pot or a pan without adding oil or fat and fry the bacon strips until brown and crispy, turning occasionally (so at the bottom of the pan you should see roasting substances). Then add the finely chopped or diced vegetables and sauté for a few minutes, stirring occasionally. Next add the miniced meat, into small pieces and fry crumbly for about 5 minutes, turning occasionally.
Then add 100 grams tomato puree and stir until all ingredients have a light tomato shine. Deglaze everything with about 100 milliliters of red wine and allow to boil dry almost completely while stirring.
Finally stir in 1 can of chopped tomatoes, 1 teaspoon each oregano, rosemary, basil, marjoram and thyme, a generous pinch of salt, pepper & sugar & 1 – 2 bay leaves.
Now simmer for 45 – 60 minutes at low heat with the lid closed, stirring occasionally. Before serving remove the bay leaves .
…for the spaghetti:
Bring a large pot of salted water to a boil and cook the spaghetti until al dente for about 6 – 7 minutes. Drain pasta over a colander, drain briefly and give the spaghetti along with 2 ladles of ragù alla bolognese back to the pot. Toss everything a few times until the pasta is easily coated with the sauce and then spread on plates. Top the pasta with another ladle of ragù alla bolognese per serving, garnish with a few basil leaves and serve.
Bon Appetite!
Video Tutorial:
Watch the video tutorial to see the recipe and the preparation method precisely (German Audio only, English Subtitles available):