I cook today: Beef Burritos with Tomato Salsa




Preparation: 15 minutes
Cooking time: 20 minutes
Total time: 35 minutes
Category: Lunch Recipes, Meat Dishes
Our Recipe Rating: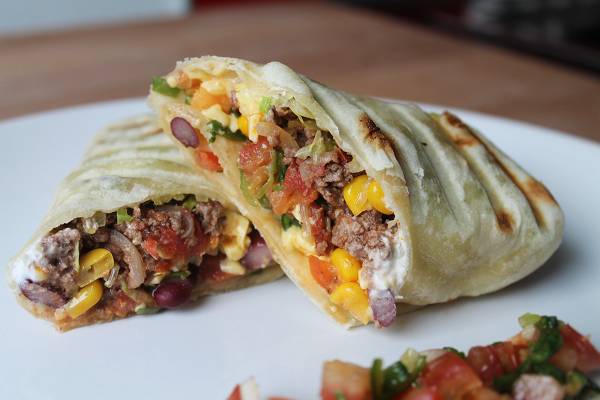 Ingredients for 8 Beef Burritos:
8 wheat tortillas (purchased or homemade)

500 grams of ground beef

1 can of corn

1 can kidney beans

1 tin of chopped tomatoes

1 onion

2 – 3 tomatoes

3 – 4 spring onions

1 – 2 jalapenos

6 – 7 branches coriander

1 clove of garlic

½ lime

½ head of Iceber lettuce

1 cup of sour cream

1 teaspoon of paprika powder (noblesweet), cumin & ground coriander

Olive oil

Salt & pepper
Kitchen Helper/Gadgets:
Large pan
Kitchen spatula
Cling film
Colander
Possibly panini grill
Instructions:




…for the tomato salsa:
Cut spring onions in small rings. Halve tomatoes, cut out the stalk and then finely dice. Halve jalapenos lengthwise, remove seeds and cut into thin strips. Finely chop coriander.
Give all ingredients on a deep plate & press a clove of garlic to the tomatoes. In addition, season with a pinch of salt and pepper, a drizzle of olive oil and the juice of half a lime. Mix everything with a spoon and then store covered with cling film in the refrigerator until serving.
…other preparations:
Cut lettuce into fine strips. Give corn and kidney beans in a colander and rinse off thoroughly under running water, then drain. Peel 1 onion and cut into thin strips.
…for the beef filling:




Heat up a large frying pan adding a dash of oil and fry onions over medium heat for about 2 – 3 minutes, stirring occasionally. Add the ground beef, tear off with a spatula and then fry crumbly for about 5 minutes over medium heat, stirring occasionally. Next add 1 teaspoon each paprika powder, cumin & ground coriander and vigorously season with salt and pepper. Stir in all spices briefly.
Finally add kidney beans, corn & 1 can of chopped tomatoes. Mix everything well and remove pan from heat after 2 – 3 minutes of warming.
…for the burritos:
Spread each wheat tortilla with a little sour cream first & then centrally top with some beef filling, tomato salsa, lettuce and grated cheese. Fold the wheat tortillas at the left and right side about 2 centimeters over the filling, then roll up from below tightly, being careful that the folded sides are rolled up too.
Then grill the rolled burritos for about 2 minutes using a panini grill (alternatively in a grill pan), so the cheese can melt inside. Halve the burritos diagonally with a knife and serve.
Bon Appetite!




Video Tutorial:
Watch the video tutorial to see the recipe and the preparation method precisely (German Audio only, English Subtitles available):