I cook today: Baked Potatoes with Mushroom & Cheese Sauce




Preparation: 30 minutes
Cooking time: 15 minutes
Total time: 45 minutes
Category: Lunch Recipes, Vegetarian Recipes, Greek Cuisine
Our Recipe Rating: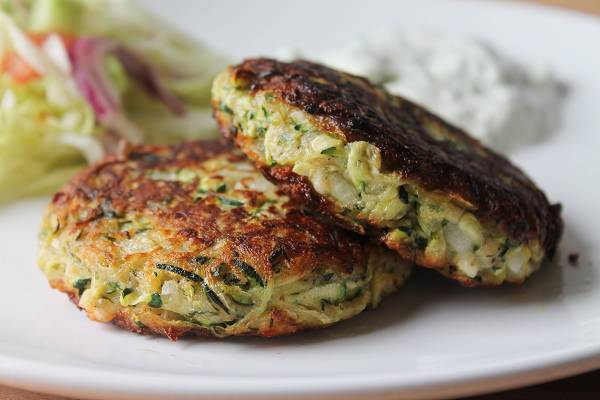 Ingredients for 6 – 8 Zucchini Patties:
…for the patties:
2 large zucchini

1 onion

1 egg

75 grams of feta cheese

25 grams Parmesan

60 grams of breadcrumbs

40 grams of flour

2 tablespoons of finely chopped dill & parsley

Oil for frying

Salt & peppers
…for the tzatziki:
125 grams of curd

125 grams of Greek cream yogurt

1 – 2 cloves of garlic

½ cucumber

1 tablespoon of finely chopped dill

Olive oil

White wine vinegar

Salt & pepper
Kitchen Helper/Gadgets:
Grater
Mixing bowl
Garlic press
Clean kitchen towel
Frying pan
Instructions:




…preparations:
Coarsely grate zucchini with a rasp & give the zucchini in a mixing bowl. Sprinkle 1 teaspoon of salt over the zucchini rasp and mix well together, then put aside for 30 minutes. Crumble feta cheese. Finely grate Parmesan. Peel onion and chop finely.
…for the tzatziki:
Meanwhile, for the tzatziki halve ½ cucumber lengthwise and with a spoon remove the seeds. Coarsely grate the scraped cucumber with a rasp & give the cucumber rasp along with 125 grams of curd and 125 grams of Greek cream yogurt in a bowl. Press 1 clove of garlic to the cucumber, also add 1 tablespoon finely chopped dill & season everything with a drizzle of olive oil, a dash of white wine vinegar, a pinch of salt and a pinch of pepper, then set aside until serving.
…for the zucchini patties:




After 30 minutes, pour off the leaked zucchini water and overthrow the zucchini rasp on a clean kitchen towel. Merge the ends of the kitchen towel & vigorously squeeze out the zucchini over the sink, to press out the excess water.
Then give the zucchini along with 1 egg, 60 grams of bread crumbs, 40 grams of flour, 2 tablespoons finely chopped parsley and 2 tablespoons finely chopped dill back into the mixing bowl. Finally add the finely chopped onion, crumbled feta cheese and Parmesan cheese, also season well with pepper. Mix all ingredients with your hands until well combined and you got a firm but still slightly sticky mass.
After that form 6 – 8 patties from the zucchini mixture & heat up a large frying pan adding a dash of oil. Fry the zucchini patties for about 4 – 5 minutes each side over medium heat until golden brown.
Best serve the zucchini patties with the homemade tzatziki and any little salad.
Bon Appetite!




Video Tutorial:
Watch the video tutorial to see the recipe and the preparation method precisely (German Audio only, English Subtitles available):