I bake today: Nut Wedges




Preparation: 5 minutes
Cooking time: 45 minutes
Total time: 50 minutes
Category: Baking Recipes, Cookie Recipes
Our Recipe Rating: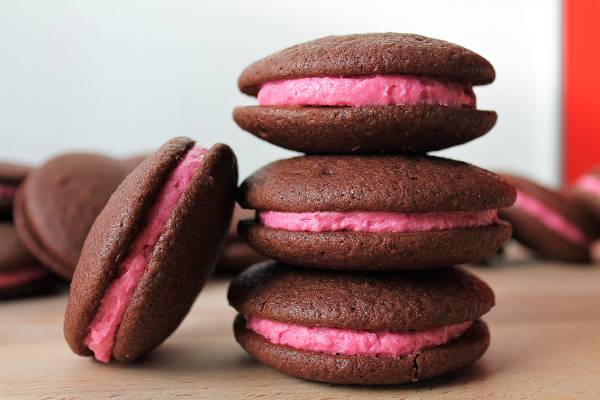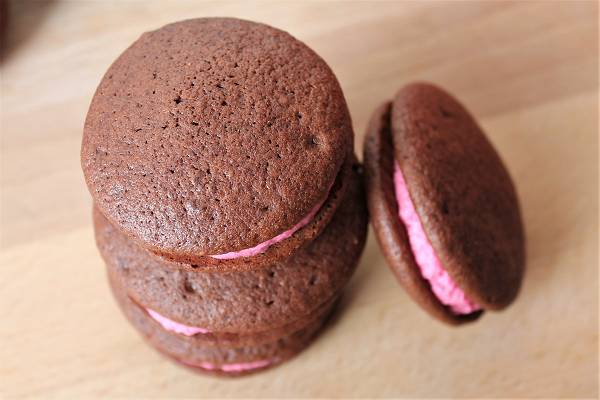 Ingredients for about 15 – 20 Whoopie Pies:
…for the chocolate batter:
150 grams of flour

75 grams of soft butter

90 grams of sugar

1 egg

25 of baking cocoa

125 milliliters of buttermilk

1 sachet vanilla sugar

½ sachet baking powder

A pinch of salt
…for the cream:
125 grams of butter

250 grams of powdered sugar

25 milliliters of beetroot juice
Kitchen Helper/Gadgets:
Mixing bowl
Baking sheet + baking paper
Mixer
Sieve
Spatula
Piping bag
Instructions:




…preparations:
Preheat oven to 180°C (top/bottom heat). Line two baking sheets with parchment paper.
…for the chocolate batter:
Combine 75 grams of soft butter together with 90 grams of sugar, 1 sachet of vanilla sugar & a pinch of salt in a mixing bowl for about 2 – 3 minutes using a mixer. Add 1 egg and continue mixing for 1 – 2 minutes until creamy & fluffy. Next, add ½ sachet of baking powder and 150 grams of flour through a sieve. Finally, add 25 grams of baking cocoa and 125 milliliters of buttermilk and gently mix with a dough scraper or spatula until all the ingredients have been evenly distributed and the batter falls heavily from the spoon.
Transfer the batter into a spraying bag with large, round nozzle and squirt about 20 small batter heaps with plenty space between each other onto the prepared baking sheets.




Bake the whoopie pies one sheet after the other in the preheated oven for 12 – 13 minutes, then remove and allow to cool completely.
…for the cream:
Add 125 grams of soft butter along with about 50 grams of powdered sugar to a mixing bowl and mix with a mixer for 2 – 3 minutes. Then gradually add the remaining powdered sugar until a light & smooth cream. Finally add 25 milliliters of beetroot juice and color the cream pink.
…for the whoopie pies:




Transfer the pink cream into a spray bag and then squirt about 1 heaping tablespoon on the flat side of the half of the Whoopie Pies. Then gently press a second Whoopie Pie half onto the cream.
Have fun baking!
Video Tutorial:
Watch the video tutorial to see the recipe and the preparation method precisely (German Audio only, English Subtitles available):