I cook today: Kale Stew with "Mettwurst" Sausages




Preparation: 30 minutes
Cooking time: 60 minutes
Total time: 1 hour & 30 minutes
Category: Lunch Recipes, Meat Dishes
Our Recipe Rating: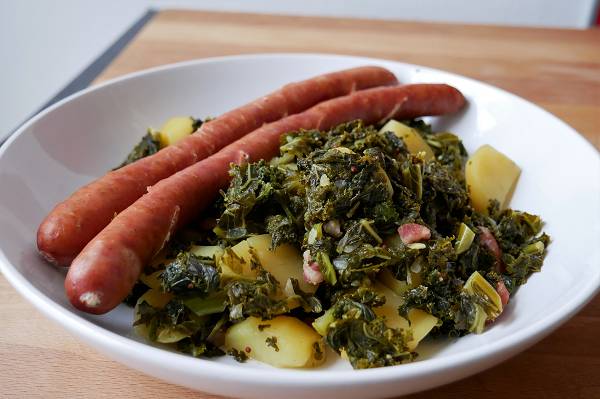 Ingredients for 4 – 6 servings:
1 kilogram kale

1 kilogram (floury) potatoes

6 – 8 "Mettwurst" sausages

150 grams bacon

400 milliliters vegetable stock

2 – 3 onions

2 teaspoons grainy mustard

Clarified butter for frying

Sugar

Salt & pepper
Kitchen Helper/Gadgets:
Large pot to blanch the kale
Ladle
Colander
Large pot/roasting dish with lid
Instructions:




…preparations for the kale:
Bring to a boil a large pot of salted water and blanch the kale in portions for 2 – 3 minutes, this will cause the kale to lose any bitterness and will become more digestible. Lift the kale out of the hot water after 2 – 3 minutes with a ladle and allow to drain in a colander, then coarsely chop the kale with a knife and set aside.
…more preparations:
Peel the potatoes and then halve or quarter them according to their size. Peel onions and chop finely. Cut the bacon into cubes or thin strips. Cut 2 "Mettwurst" sausages into thin slices, slightly carve into the rest of the sausages with a knife a few times.




…for the kale:
Heat up a large pot or roasting dish adding a tablespoon of clarified butter and sweat the diced bacon and finely chopped onions for about 2-3 minutes over medium heat.
Next, add the potatoes & 400 milliliters of vegetable stock and bring to a boil, then allow to simmer with the lid closed over low to medium heat and for about 10 minutes.
After 10 minutes, add the coarsely chopped kale, the sausage slices, and 2 teaspoons of grainy mustard. Season with a generous pinch of salt, pepper & sugar and gently mix all ingredients well. Finally, place the whole "Mettwurst" sausages on top of the kale & allow to simmer with the lid closed for about 40 minutes over low to medium heat until done.
Distribute the done kale on deep plates and serve along with the "Mettwurst" sausages.
Bon Appetite!
Video Tutorial:




Watch the video tutorial to see the recipe and the preparation method precisely (German Audio only, English Subtitles available):