I cook today: American Style Pan Pizza with Mild Peppers




Preparation: 60 minutes (incl. resting time)
Cooking time: 15 minutes
Total time: 1 hour 6 15 minutes
Category: Lunch Recipes, Pizza Recipes, American Cuisine
Our Recipe Rating: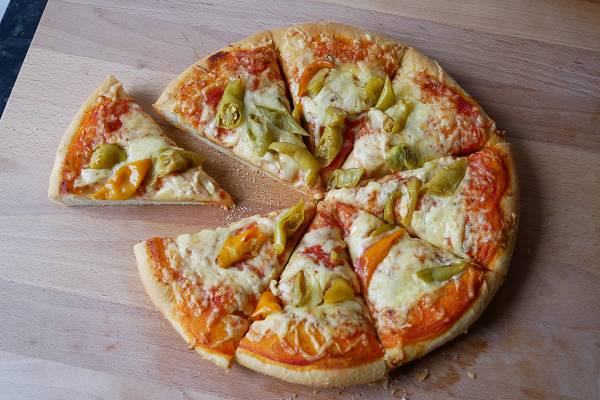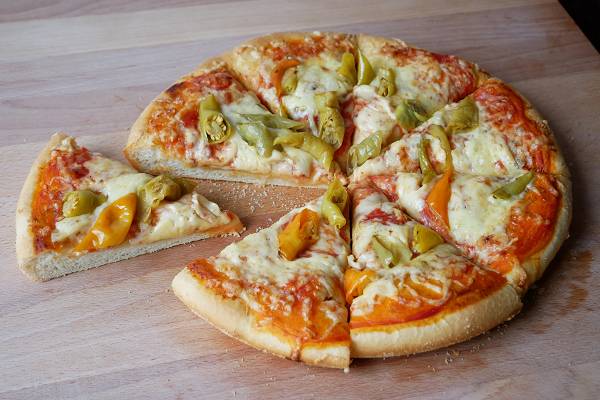 Ingredients for 1 serving:
…for the dough:
250 grams flour

125 milliliters lukewarm water

25 milliliters olive oil

¼ cube of fresh yeast

½ teaspoon salt & sugar each
…for the topping:
125 grams grated cheese

2 – 3 tablespoons sieved tomatoes

5 – 6 mild peppers

Salt, pepper & oregano to taste

Additional olive oil to grease the pan
Kitchen Helper/Gadgets:
High container to stir together the yeast-water-mixture
Small whisk or fork
Kitchen machine/Mixer
Mixing bowl
Rolling pin
Pizza pan
Kitchen towel
Instructions:




…preparations:
Grease the pizza pan with 1 tablespoon of olive oil, then set aside. Cut 5 – 6 mild peppers into 1cm thick pieces. Preheat the oven in time to 250°C (top/bottom heat).
…for the dough:
Crumble ¼ cube of yeast into a high container & pour in 125 milliliters of lukewarm water. Add ½ teaspoon of sugar and mix with a small whisk or fork until sugar and yeast have completely dissolved. Add the yeast-water-mixture along with 250 grams flour, 25 milliliters of olive oil & ½ teaspoon salt to a mixing bowl & knead with a kitchen machine or your hands until a smooth dough for about 4-5 minutes.




Give the dough a ball shape with your hands and then roll out with a rolling pin until round & you reach the size of the pizza pan. Transfer the rolled dough into the prepared pan, add another tablespoon of olive oil onto the dough and rub the dough surface with oil. Then allow to rest for about 45 – 60 minutes covered with a kitchen towel in a warm place until the dough's volume has approximately doubled.
…for the topping:
After the rest period, spread the pizza evenly with 2 – 3 tablespoons sieved tomatoes, season with a little salt, pepper and oregano and finish with 125 grams of grated cheese and the mild peppers.




Place the pizza on the bottom of the preheated oven and bake for about 8 – 9 minutes. Then get the pizza out of the oven, carefully slide it out of the pan and enjoy.
Bon Appetite!
Video Tutorial:
Watch the video tutorial to see the recipe and the preparation method precisely (German Audio only, English Subtitles available):