I bake today: Fried Egg Muffins




Preparation: 15 minutes
Cooking time: 45 minutes
Total time: 1 hour
Category: Baking Recipes, Muffin & Cupcake Recipes, Easter Recipes
Our Recipe Rating: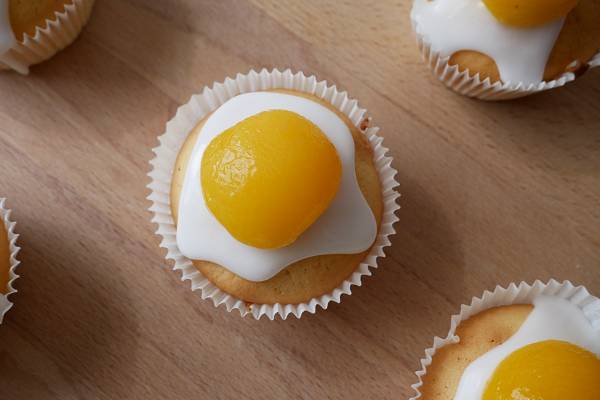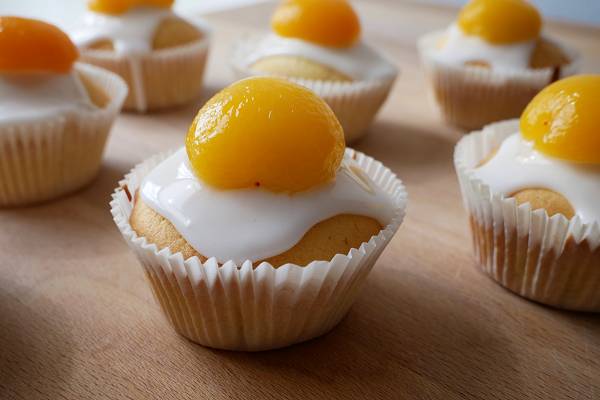 Ingredient for 12 muffins:
…for the batter:
250 grams flour

125 grams soft butter

125 grams sugar

2 large eggs

75 milliliters cream

1 sachet vanilla sugar

1 level teaspoon baking powder

A pinch of salt

Peel of ½ organic lemon
…for the topping:
1 lemon

About 200 grams powdered sugar

12 apricot halves
Kitchen Helper:
Mixing bowl
Mixer/food processor
Muffin tin
Paper cases/liner
Grater
Cooling rack
Sieve
Lemon juicer
Instructions:




…preparations:
Preheat the oven to 180°C (top/bottom heat). Line a muffin tin with paper cases. Finely grate ½ organic lemon.
…for the batter:
Mix together 125 grams of soft butter, 125 grams sugar, 1 sachet of vanilla sugar, a pinch of salt & the lemon peel with a mixer or a kitchen machine for about 2 minutes. Then add a total of 2 eggs in succession and mix in each egg separately for about 1 minute.
Mix a level teaspoon of baking powder with 250 grams of flour. Add the flour alternately with 75 milliliters of cream to the batter & stir in until all ingredients have been used up & you got a smooth & thick batter.




…for the muffins:
Give the muffin batter into the prepared tin, fill the molds only ⅔, because the muffins will rise up during baking. Then bake the muffins for about 20 minutes in a preheated oven until golden brown. Get the muffins out of the oven & allow them to cool completely on a wire rack.
…for the topping:
Drain apricot halves using a sieve or colander. Squeeze out a lemon with a juicer and gradually add about 200 grams of powdered sugar (depending on how juicy the lemon is) to the lemon juice. Mix the powdered sugar and lemon juice until a smooth & relatively viscous icing.




Dab 1 good teaspoon of icing in the middle of each muffin and decorate with an apricot halve to shape them as fried eggs.
Have fun baking!
Video Tutorial:
Watch the video tutorial to see the recipe and the preparation method precisely (German Audio only, English Subtitles available):