I cook today: Caesar Salad Wraps




Preparation: 10 minutes
Cooking time: 20 minutes
Total time: 30 minutes
Category: Lunch Recipes, Wrap Recipes, Fast Food, Quick Cuisine, Vegetarian Recipes
Our Recipe Rating: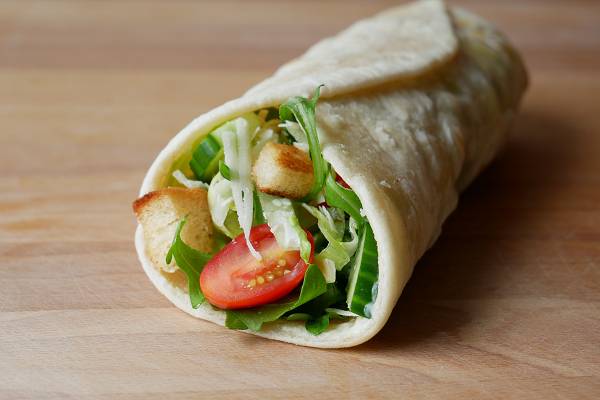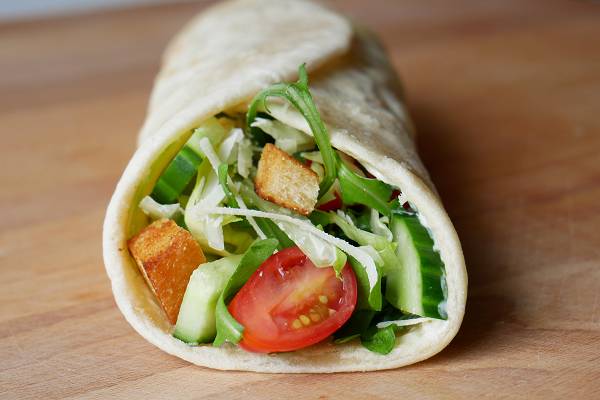 Ingredients for 4 Caesar Salad Wraps:
…for the sauce:
100 grams mayonnaise

125 grams yoghurt

1 tablespoon finely chopped parsley (fresh or frozen)

1 clove of garlic

Zest of an organic lemon

Salt & pepper
…other ingredients:
4 tortilla wraps (bought oder homemade)

½ head iceberg lettuce

75 grams rocket

½ cucumber

15 cherry tomatoes

50 grams Parmesan cheese

2 slices sandwich bread

A small piece butter + some oil for frying
Kitchen Helper/Gadgets:
Large pan
Kitchen paper
Small bowl to stir together sauce
Garlic press
Grater
Instructions:




…for the sauce:
In a small bowl stir together 100 grams mayonnaise along with 125 grams yoghurt, 1 tablespoon finely chopped parsley, the zest of an organic lemon & a pressed clove of garlic. Season the sauce with salt & pepper to taste & set aside until serving.
…more preparations:
Cut iceberg lettuce into fine strips. Halve cherry tomatoes with a knife. Quarter cucumber lengthwise and then cut into slices of ½ centimeter. Cut the sandwich bread slices into cubes of 1 centimeter. Finely grate the parmesan with a grater.




…for the croutons:
Heat up a large pan adding a generous flake butter and a good shot of oil. As soon as the butter starts foaming, add the sandwich bread cubes and then fry until golden brown over medium heat, stirring/tossing occasionally. Lift the sandwich bread cubes out of the skillet and allow to drain briefly on kitchen paper.
…for the wraps:
Spread a tortilla wrap evenly with 1 – 2 tablespoons of the prepared sauce, then top the wrap centrally with iceberg lettuce, cherry tomatoes, cucumbers and rocket. Finally garnish with about 1 handful of croutons and some grated Parmesan cheese. Roll up the wraps & enjoy!
Bon Appetite!




Video Tutorial:
Watch the video tutorial to see the recipe and the preparation method precisely (German Audio only, English Subtitles available):