I cook today: Baking Milk Croissants




Preparation: 15 minutes
Cooking time: 60 minutes
Total time: 1 hour & 15 minutes
Category: Baking Recipes, Bread & Roll Recipes
Our Recipe Rating: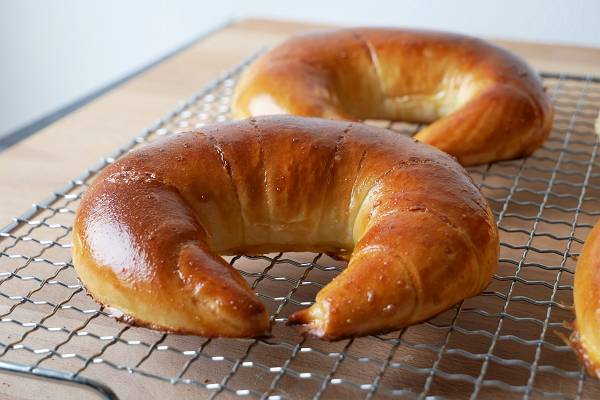 Ingredients for 8 Milk Croissants:
500 grams flour

275 milliliters milk

50 grams soft butter

50 grams sugar

½ cube fresh yeast

1 teaspoon salt

1 egg yolk + 2 – 3 tablespoons milk for brushing

Additional flour for the countertop
Kitchen Helper/Gadgets:
High conatiner to stir together milk, yeast & sugar
Whisk or fork
Mixing bowl
Kitchen machine
Knife or pizza cutter
Rolling pin
2 baking sheets + parchment paper
Kitchen towel
Brush
Cup to stir together egg yolk & milk
Wire rack
Instructions:




…for the dough:
Crumble ½ cube of fresh yeast into a high container. Add 275 milliliters of lukewarm milk & 50 grams of sugar and mix together with a whisk or a fork until sugar and yeast have completely dissolved. Transfer the yeast-milk mixture into a mixing bowl, also add 500 grams of flour, 50 grams of soft butter & 1 teaspoon salt & knead with a kitchen machine or your hands for 4 – 5 minutes until a smooth dough, which loosen completely from the bowl's side wall.
…for the milk croissants:
Then halve the dough and form both halves into a ball (each dough ball will be needed to shape 4 croissants). Lightly flour the worktop, place one dough ball on the floured surface and roll out with a rolling pin round & about ½ centimeter thick.




Then cut the rolled out dough circle with a knife or pizza cutter into 4 equal sized "cake slices". Afterwards carefully roll out each "cake slice" into an elongated triangle (the countertop should be slightly floured again).
Tightly roll up each triangle from the long side and then shape them into croissants by matching the tips so that they almost touch each other. Place the shaped croissants with plenty of space between each other (only 4 croissants per baking tray) on a lined baking tray & allow to rest covered with a kitchen towel in a warm place for 45 – 60 minutes until the volume of the croissants has increased significantly. Repeat the same for the 2nd half of dough.




Preheat the oven in time to 200°C (top/bottom heat). Whisk together 1 egg yolk with 2 – 3 tablespoons of milk in a cup. Then evenly brush the croissants with the whisked egg yolk and bake for about 12 – 15 minutes in the preheated oven (only 1 baking sheet per baking step).
Get the done croissants out of the oven & allow to cool on a wire rack, then serve still warm.
Bon Appetite!
Video Tutorial:
Watch the video tutorial to see the recipe and the preparation method precisely (German Audio only, English Subtitles available):