I cook today: Spaghetti with Meatballs




Preparation: 15 minutes
Cooking time: 25 minutes
Total time: 40 minutes
Category: Lunch Recipes, Meat Dishes, Pasta & Noodle Recipes
Our Recipe Rating: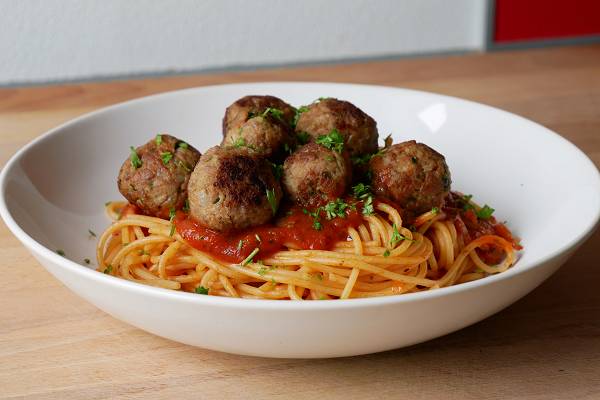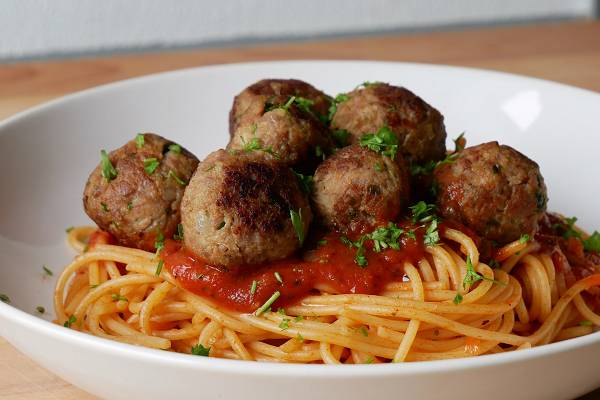 Ingredients for 4 servings:
…for the meatballs:
500 grams of ground meat

1 bunch parsley

1 egg

1 onion

50 grams breadcrumbs

1 tablespoon mustard

Salt & pepper
…for the sauce:
750 milliliters sieved tomatoes

1 onion

1 clove of garlic

1 teaspoon oregano, thyme, rosemary, majoram & basil each

¼ teaspoon cayenne pepper

1 small piece butter

Salt & pepper
…more ingredients:
400 grams spaghetti

Oil for frying
Kitchen Helper/Gadgets:
Large pan with lid
Casserole to keep warm the meatballs
Large bowl
Large pot to cook the spaghetti
Instructions:




…preparations:
Peel 2 onions & chop finely. Heat up a large pan adding a dash of oil and sweat half of the onions (set aside the other half for the tomato sauce later) for 2 – 3 minutes until glassy, then pull them from the stove and set aside for cooling. Finely chop parsley, set aside a bit for garnishing. Peel garlic and chop finely. Preheat oven to 50°C (top/bottom heat).
…for the meatballs:
In a large bowl mix together 500 grams of minced meat with 1 egg, 50 grams of breadcrumbs, the sweated onions, finely chopped parsley, 1 tablespoon of mustard & a good pinch of salt & pepper.. Mix all the ingredients until well combined (if it seems somewhat too sticky, simply add a little more breadcrumbs) and then form approx. 25 small meatballs.




Next, heat up a large pan adding a good dash of oil & fry the meatballs (best in 2 batches á 12 – 13 balls) for about 5 – 6 minutes until golden brown all around. Then lift out the meatballs and keep warm in the preheated oven.
…for the tomato sauce:
Heat up the meat pan again adding a dash of oil and sweat the second half of the prepared onions & the finely chopped garlic for about 2 – 3 minutes until glassy. Then add 750 milliliters of sieved tomatoes, a teaspoon of oregano, thyme, rosemary, marjoram & basil each, ¼ teaspoon of cayenne pepper, a pinch of salt, pepper & sugar and a small piece of butter. Stir in everything until well combined, bring to a boil and then allow to simmer over low heat with the lid closed, stirring occasionally.
…for the spaghetti:
In parallel to the tomato sauce, bring a large pot of salted water to the boil and cook the spaghetti for approx. 7 minutes until al dente. Then allow the finished spaghetti to drain over a colander, transfer back to the pot & mix with half of the sauce.




Serve the spaghetti with the remaining sauce, meatballs & a bit finely chopped parsley for garnishing.
Bon Appetite!
Video Tutorial:
Watch the video tutorial to see the recipe and the preparation method precisely (German Audio only, English Subtitles available):