I bake today: Twix Sheet Cake




Preparation: 60 minutes (incl cooling time)
Cooking time: 60 minutes
Total time: 2 hours
Category: Baking Recipes, Cake & Cookie Recipes, Sheet Cakes
Our Recipe Rating: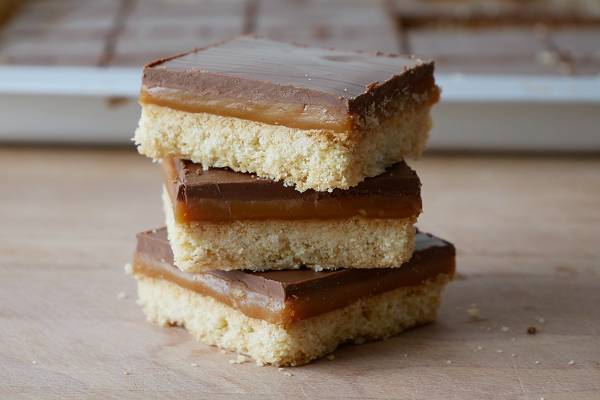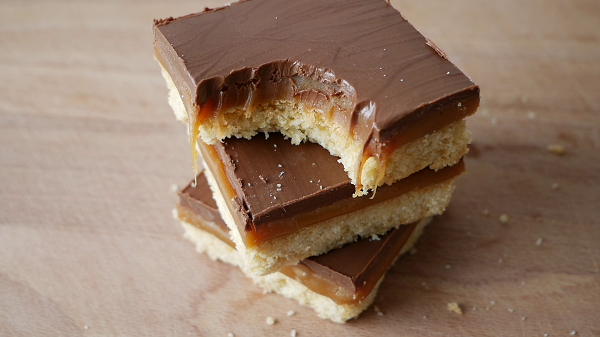 Ingredients for 1 small sheet:
…for the shortcrust:
250 grams flour

125 grams cold butter

125 grams sugar

1 egg

1 sachet vanilla sugar

½ sachet baking powder

A pinch of salt
…other ingredients:
400 grams soft butterscotch candies

100 milliliters cream

50 grams butter

200 grams milk chocolate
Kitchen Helper/Gadgets:
1 small baking tray (Dimensions 35cm x 20cm)
Baking paper
Mixing bowl
Small saucepan to melt the butterscotch candies
Whisk
Pot + suitable bowl for the double boiler or microwave to melt the chocolate
Brush
Knife
Instructions:




…for the shortcrust:
Preheat the oven to 180°C (top/bottom heat). Line a baking sheet with baking paper. Cut butter into small pieces and then give butter along with 250 grams flour, 125 grams sugar, 1 egg, 1 sachet vanilla sugar, ½ sachet baking powder and a pinch of salt into a mixing bowl. Mix all ingredients with your hands for about 4 – 5 minutes to form a smooth dough. After that transfer the shortcrust to the prepared baking sheet and line it evenly with the pastry.
Then bake the in a preheated oven for about 15 – 20 minutes until golden brown, remove from the oven and allow cool.
…for the caramel layer:
Give 400 grams of soft butterscotch candies together with 100 milliliters of cream & 50 grams of butter into a saucepan & heat up over low to medium heat. Melt the caramel candies while stirring constantly, then pull the saucepan from heat and allow to cool for about 5 minutes at room temperature.




Pour the melted caramel onto the baked shortcrust and spread evenly, then allow to cool or harden for about 30 – 45 minutes.
…for the chocolate layer:
Melt the chocolate over a double boiler (or microwave), then pour onto the caramel layer and spread evenly with a brush. Allow the chocolate to harden completely, then use a knife to cut the cake into squares and serve it.
Bon Appetite!
Video Tutorial:




Watch the video tutorial to see the recipe and the preparation method precisely (German Audio only, English Subtitles available):